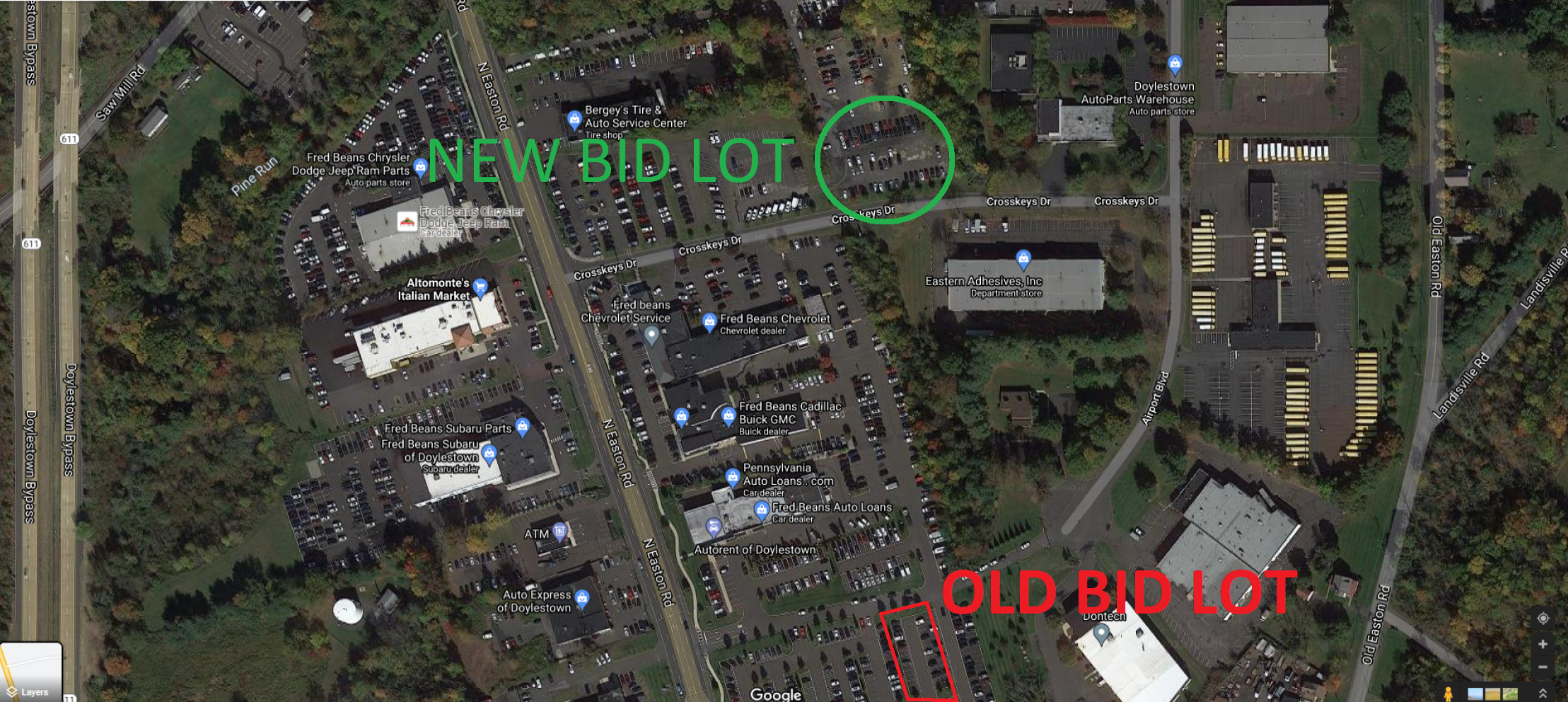 BIDS SUBMITTED AFTER 3:30 WILL BE DISCARDED WITH NO EXCEPTIONS
| | | |
| --- | --- | --- |
| Lot # | Stock#                  Year        Make         Model                     Vin # | Mileage |
| 1 | D303632 USED 2007 DODGE CHAR 2B3LK53H37H891740 | 142726 |
| 2 | E00487P USED 2010 FORD FUSION 3FAHP0JG2AR260417 | 170617 |
| 3 | J3100PS2 USED 2015 KIA FORT KNAFK4A60F5406948 | 85811 |
| 4 | CQ04 USED 2015 HYUNDAI   KMHCT5AE4FUL99370 | 233258 |
| 5 | H300913 USED 1998 FORD ESCA 3FAFP15P0WR218052 | 112787 |
| 6 | H301781 USED 2006 CADILLAC DTS 1G6KD57Y36U185283 | 90339 |
| 7 | A308901 USED 2011 TOYOTA RAV4 JTMRF4DV1B5038345 | 64951 |
| 8 | E30029E1 USED 2011 FORD RANGER 1FTLR4FEBPB12923 | 69537 |
| 9 | E00457E USED 2014 FORD F150 1FTFW1EFXEKF13974 | 139619 |
| 10 | E20440E USED 2008 FORD F150 1FTPW145X8FA93644 | 159896 |
| 11 | B301771 USED 2021 GMC YUKO 1GKS2DKL0MR332267 | 74959 |
| 12 | H3018D1 USED 2004 RAM 1500 1D7HU18D74J207320 | 117125 |
| 13 | H3022D1 USED 2015 FORD FOCU 1FADP3K26FL213786 | 171498 |
| 14 | C301681 USED 2004 CHEVROLET CAVI 1G1JC12F547331780 | 143481 |
| 15 | H3001D2 USED 2013 KIA SORE 5XYKWDA23DG313784 | 138122 |
| 16 | H2064SL1 USED 2009 FORD EXPL 1FMEU73E29UA33268 | 160983 |
| 17 | S302692 USED 2010 MAZDA MAZD JM1BL1SFXA1198430 | 101488 |
| 18 | S300078SL1 USED 2016 SUBARU OUTB 4S4BSACC2G3286615 | 110441 |
| 19 | S302361 USED 2015 VW JETTA 3VWLA7AJ2FM250725 | 134727 |
| 20 | S303891 USED 2008 SUBARU OUTB 4S4BP61CT87335044 | 143647 |
| 21 | S300060P1 USED 2014 DODGE GRAND 2C4RDGCG1ER463551 | 136802 |
| 22 | S400101 USED 2004 CADILLAC CTS 1G6DM577540101985 | 92062 |
| 23 | C3687X2 USED 2013 ACURA TSX JH4CU2F6XDC005282 | 172470 |
| 24 | D205581 USED 2016 CHEVORLET TRAX 3GNCJRSB0GL215184 | 125036 |
| 25 | F3079P1 USED 2005 CHEVORLET EQUI 2CNDL13F056014926 | 184765 |
| 26 | B12378 USED 2002 FORD EXPLO 1FMZU72E12ZB71038 | 162275 |
| 27 | F3111P1 USED 2014 FORD TAURUS 1FAHP2KT2EG136569 | 118510 |
| 28 | F3051P2 USED 2009 NISSAN ROGUE JN8AS58V19W443140 | 76609 |
| 29 | FU30751 USED 2017 RAM PROMASTER 3C6TRVDG9HE518691 | 43575 |
| 30 | F3080P1 USED 2015 FORD F150 1FTEW1EG6FFC82439 | 160198 |
| 31 | FU31141 USED 2012 FORD F250 1FTBF2B60CED11990 | 154817 |
| 32 | S300131 USED 2004 NISSAN XTERR 5N1ED28Y44C628191 | 97617 |
| 33 | C29 USED 2017 CHEVROLET EQUINOX 2GNFLFEK9H6232136 | 15009 |
| 34 | N301012 USED 2008 CHEVROLET IMPAL 2G1WT58N789240980 | 141476 |
| 35 | N300362 USED 2004 TOYOTA CORO 2T1BR38E84C282108 | 243425 |
| 36 | N300982 USED 2012 MB ML350 4JGDA5HB6CA015355 | 102915 |
| 37 | N200962 USED 2005 JEEP LIBE 1J4GL48KX5W547097 | 206722 |
| 38 | N301132 USED 2011 CHEVROLET SILV 1GCRCPEX2BZ183915 | 124092 |
| 39 | N301611 USED 2011 FORD FUSI 3FAHP0HG3BR115197 | 132488 |
| 40 | N30078C USED 2015 FORD EDGE 2FMTK4J84FBB10832 | 88341 |
| 41 | N30031S2 USED 2012 FORD ESCA 1FMCU9EG7CKB86698 | 138098 |
| 42 | J312861 USED 2010 VOLVO XC60 YV4992DZXA2125270 | 175044 |
| 43 | B12356 USED 2012 JEEP 1C4HJWDG9CL228981 COMES WITH HARD TOP | 122812 |
| 44 | D304041 USED 2009 TOYOTA CORO 2T1BU40E79C140419 | 143716 |
| 45 | TRK164 USED 2016 RAM PROMASTER 3C7WRVGG9GE116124 | 715 |
| 46 | TRK186 USED 2017 RAM PROMASTER 3C7WRVMG8HE538522 | 223669 |
| 47 | A308331 USED 2000 JEEP GRAND 1J4GW58N4YC255443 | 107612 |
| 48 | A302992 USED 2007 HYUNDAI SANTA 5NMSG13D37H093292 | 163052 |
| 49 | A308422 USED 2010 VW ROUT 2V4RW5DX1AR435195 | 123470 |


Welcome to Fred Beans Bid
Fred Beans Bid in Doylestown, PA treats the needs of each individual customer with paramount concern. We know that you have high expectations, and as a car dealer we enjoy the challenge of meeting and exceeding those standards each and every time. Allow us to demonstrate our commitment to excellence!
We look forward to serving you!
Questions?    Please call us!
Devin Uluski
   267-893-9049     or   
Scott Hall
  215-348-3588
Questions?Call Us:

JARED EPSTEIN
215-345-7100 EXT 1597